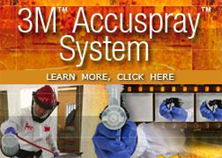 3M Accuspray System
Primed for Success
Another great product brought to you by the same people who brought you the 3M™ PPS™ System. Introducing the 3M™ Accuspray™ System, the equivalent of having a brand new primer spray gun for a fraction of the cost.The innovative replaceable atomizing head allows for the following benefits:
Reduces Primer Consumption
Boosts Productivity
Lowers primer spraying time
Decreases primer sanding time
Reduces clean-up
Maximizes Benefits of the 3M™ PPS™ System
Reduces gun cleaning time
Uses less solvent for clean up
Decreases hazardous disposal cost
Improves productivity and profitability
Download the PDF Catalog above.
Call your Sales Representative for more information.