CribMaster Accu-Port
CribMaster Accu-Port™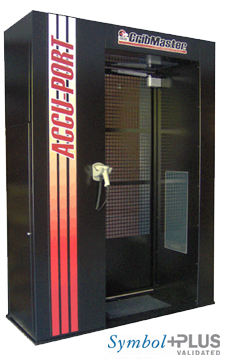 The Accu-Port™ takes the issue and return of indirect materials to an entirely new automated level. Centrally locate self-issue store rooms or tool cribs and completely automate the distribution and vending of tools, MRO and other indirect material.
Automated tracking of inventory in and out of a secured area
Automatic employee identification via content/rfid-inventory-managementRFID employee badges
Management and monitoring of expendable, durable, kits and serialized items
Complete calibration and inspection monitoring and notification
Complete smart purchasing and replenishment system
Automated supplier management and supplier performance reporting
Ease of use and no additional steps
and much more...
Forget about adding steps for your employees to comply with, they simply walk in, gather their items and walk out. With over 170 canned reports and the ability to automate the delivery of the reports, the Accu-Port™ ensures all processes are followed properly by properly notifying those responsible for the tasks. This is the ultimate solution for better control of an unmanned situation and an easy way to gain control of your inventory. Accu-Port users have reported an average payback on the solution of less than 6 months with 20% - 40% inventory usage reductions. The Accu-Port is the ultimate in RFID tool tracking, indirect material and asset tracking.
Centralized Tool Cribs / Store Rooms (expendable & durable items)
PC, Touch Screen, Software, Scanner
Mobile Asset Tracking & Mgmt
Standardized inlays - Alien squiggle 1 x 4
Depth = 27"