CribMaster Cab-Lock
CribMaster Cab-Lock™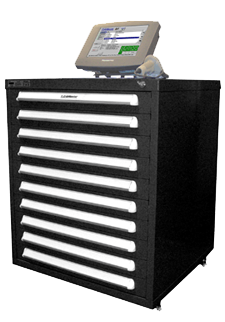 CribMaster, tool crib software, tool room software, toolcrib software, tooling inventory, preventive maintenance, integrated supply, bar code scanners, tool vending, supply chain management, RFID, Automotive ManufacturingThe CribMaster Cab-Lock modular cabinet storage system combines a proven electronically controlled locking modular cabinet with CribMaster Software to enable controlled distribution of inventory. You benefit by:
Enabling the locking of individual drawers to help ensure correct inventory transactions and accountability
Allowing flexible drawer configurations with 4 unique cabinet heights
Tracking with multi-category usage & accounting - Up to seven (6 user definable) classifications for tracking and reporting
Allowing flexible automatic reordering & re-supply to limit stock outs
Item issue efficiency - improved productivity by issuing nearer to job sites
Helping manufacturing efficiency - machine usage improved by minimizing downtimes
Eliminating stock-outs with features like critical alerts and automated optimum order levels
and more...
It has never been easier to expand control. The flexibility of the Cab-Lock™ allows you to gain control of inventory you may currently have stored in modular cabinets or to add modular cabinets to an existing floor layout. Either way, you gain the ability to control access to cabinet drawers utilizing all the security, inventory management and purchasing features of the CribMaster Inventory Management System. This is a simple method to move product to point-of-use and establish accountability when vending or dispensing tools, MRO or other indirect material.
Point-of-Use inventory dispensing
PC/Touch screen with Windows XP Professional
Height = 33", 37", 44" or 59"
Symbol 2208 Bar-Code Scanner (Standard)
Stock-from satellite crib layouts
Cabinets in 3 heights and drawers in 13 sizes