Why Choose?
Why Choose Industrial Vending Systems?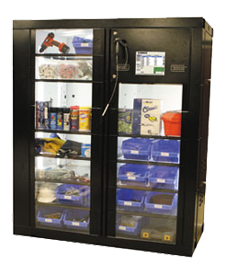 If you manage the supply room or tool crib for your company and are researching ways to streamline your processes and realize savings opportunities, industrial vending technologies from Kenneth Crosby can help. No matter what problems you've experienced with your inventory control and tool management in the past, our advanced products can make these issues disappear and have your business running as smoothly as ever.
That's because our line of innovative tool vending machines, RFID tracking devices, and inventory management software all work together to create the most powerful tool tracking and inventory control solutions available.
Whether your company has a huge supply of large, expensive tools to monitor, or a vast selection of small inventory items like gloves and batteries to dispense to employees, our industrial vending solutions can help you accurately track and control it all.
Never again worry about serious problems due to employee hoarding, misplacement, or even theft of your tools and inventory items, and put to rest fears of having improper quantities of your supply items.
With the industrial vending technologies offered by Kenneth Crosby, these issues can become a thing of the past. Contact your "Sales Representative" today to learn more.