CribMaster ToolBox
CribMaster ToolBox™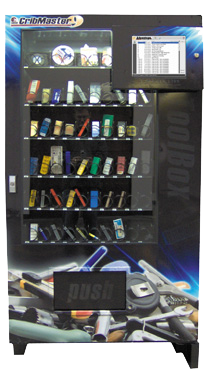 This is the first point-of-use distribution device introduced to the CribMaster product line. This is the start of the CribMaster tool vending machines. This device has helped many operations by:
Enabling an easy to use touch screen interface
Tracking with multi-category usage & accounting - Up to seven (6 user definable) classifications for tracking and reporting
Allowing flexible automatic reordering & resupply to limit stock outs
Item issue security - limit access to prevent incorrect usage or unauthorized access
Item issue efficiency - improved productivity by issuing nearer to job sites
Helping manufacturing efficiency - machine usage improved by minimizing downtimes
Eliminating stock-outs with features like critical alerts and automated optimum order levels
and more...
WinWare has combined the world's leading toolcrib / store room automation software, CribMaster, with durable and reliable electronically controlled hardware. Affordable and secure point-of-use distribution is now available for a wide variety of items. All types of industrial firms can benefit from efficient, cost accountable inventory dispensing without a large capital investment.
Point-of-Use Inventory Dispensing
PC with Windows XP Professional
Cutting tools and expendables
Symbol 2208 Bar-Code Scanner (Standard)
Safety glasses and other PPE